November 24, 2020
By Chris Kubbernus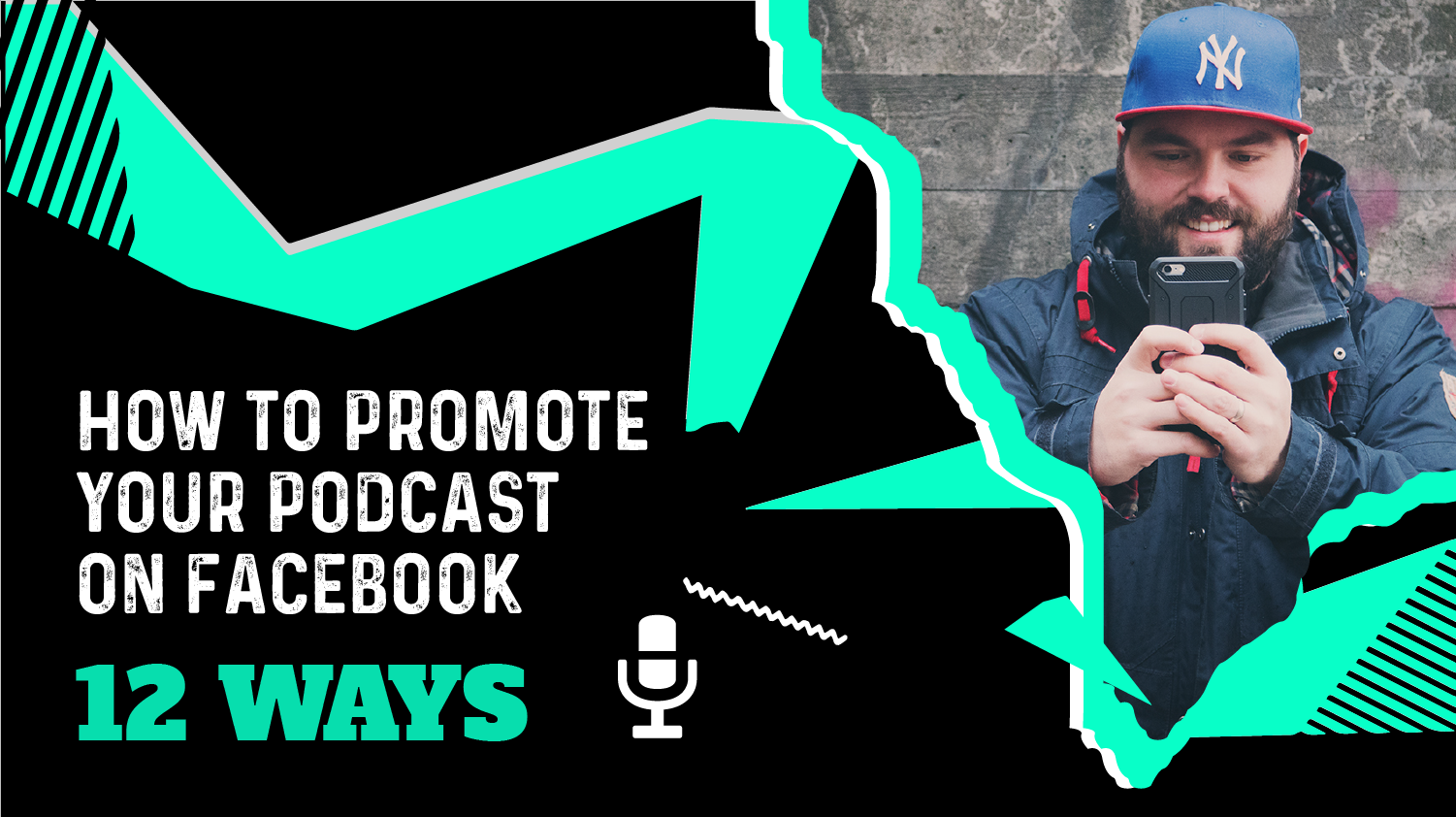 We all have a love-hate relationship with Facebook, don't we?
Facebook used to be the place to go for boosting organic reach.
Sounds more like a myth these days, doesn't it?
Although organic page reach is super low, that doesn't mean Facebook isn't a vital tool for marketing podcasts.
196 million people use Facebook every day. You'd be foolish to think it has no potential as a promotional platform.
It's all about how we use it to promote the podcast. Just pumping out posts to a page won't do much, but taking advantage of all the tools available definitely will.
Let's go over how to promote your podcast on Facebook with a handful of tactics – some free, some paid.
Can You Even Post a Podcast on Facebook?
Yes and no.
If you want to post a podcast on Facebook, you must upload it to a third-party app first like iTunes, Spotify, or YouTube. You can then share the link from a third-party app to Facebook. We use Libsyn for podcast distribution – there are many others that do the hard distribution work for you.
Facebook will load all the metadata – like the title and image – but there's a big catch with doing this: Facebook does not want people to leave its app.

My posts will always reach more people when they're plain text or a graphic. When I post a link to something, reach is always lower.
You also cannot upload a mere audio file to Facebook, and we shouldn't expect that to change. Facebook doesn't want people listening to content and turning their screen off. They want people scrolling so Facebook can display more ads.
Posting our podcast itself to Facebook isn't effective but we can still reap the benefits of all the other excellent promotional tools.
How to Promote Your Podcast on Facebook: 12 Strategies That Actually Work
Podcasting is huge right now. Edison Research called 2019 a "watershed moment" because, at that point, over half of the people on the planet had listened to at least one podcast. That was the first time podcast penetration passed 50%.
Likewise, almost everyone uses Facebook. If you need a platform with a diverse user base. Facebook offers that.
1. Map Out a Strategy
Don't go in blind. Develop a concrete strategy.
Figure out what exactly you want to accomplish from promoting your podcast on Facebook. What are your goals? More iTunes subscribers, monthly listens, Patreon donors?
Who is your audience?
How often will you post and what types of content to promote the podcast? Blogs, video, graphics?
Think about what channels you'll use within the Facebook app:
Groups (besides your own)
Pages to follow (as your page and personal account) and interact with
Targeted ads and budget
Live streaming vs. watch parties
Facebook is loaded with promotional features and tools so a strategy is key.
2. Nail Down Some Metrics and KPIs
If you don't decide how to track your performance, you'll never know if your efforts are working or not. You'll have no idea what to change, adjust, or test to improve either.
Plus, Facebook provides more metrics and stats than any social media platform. It's seriously a cluster you-know-what if you don't know exactly what you're looking for.
Some KPIs and metrics might include:
Increasing Facebook page link clicks and shares to boost brand engagement
Converting more Spotify/iTunes listeners into subscribers
Boosting non-podcast lead magnet downloads
Converting more traffic into email subscribers
3. Figure Out Where You Want People to Go
Podcasts are one of the most challenging things to promote on social media because it's tough to decide where to send our listeners off Facebook.
Ideally, we always want to promote sources we own – like our website or email list. But what if we want more iTunes or Patreon subscribers? It depends.
Go back to your audience and their familiarity with your show:
Totally unaware you exist: Promote a website landing page or blog.
Have maybe heard of you from friends or listened once: Promote clips from the show or blog content.
Know who you are but don't listen regularly: Promote your subscribe CTA
4. Create a Facebook Podcast Page
We could actually have plenty of luck promoting our show in groups and on other pages without a page of our own. People respond better to personal accounts than brand pages.
But we still need a branded page for the show.
Just click the + next to your name and click on "Page."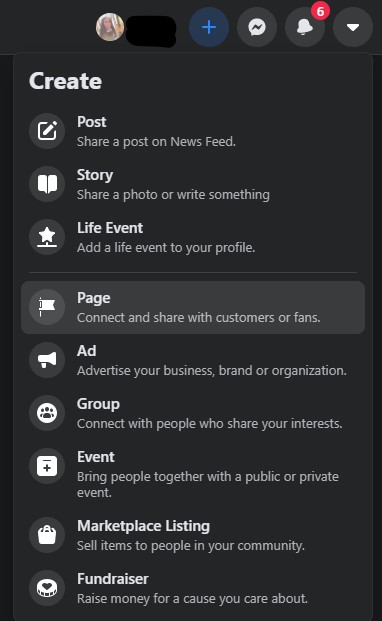 We'll then update our page's name with the name of our show, our description, category, and profile/cover photos.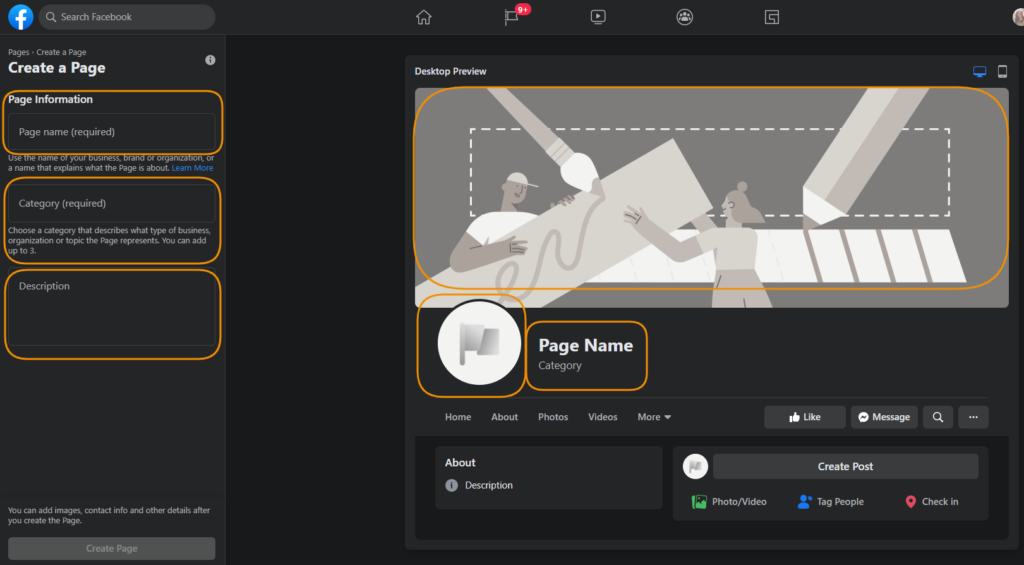 These are the bare minimum. Once we publish the page, Facebook gives us a ton of other stuff to customise: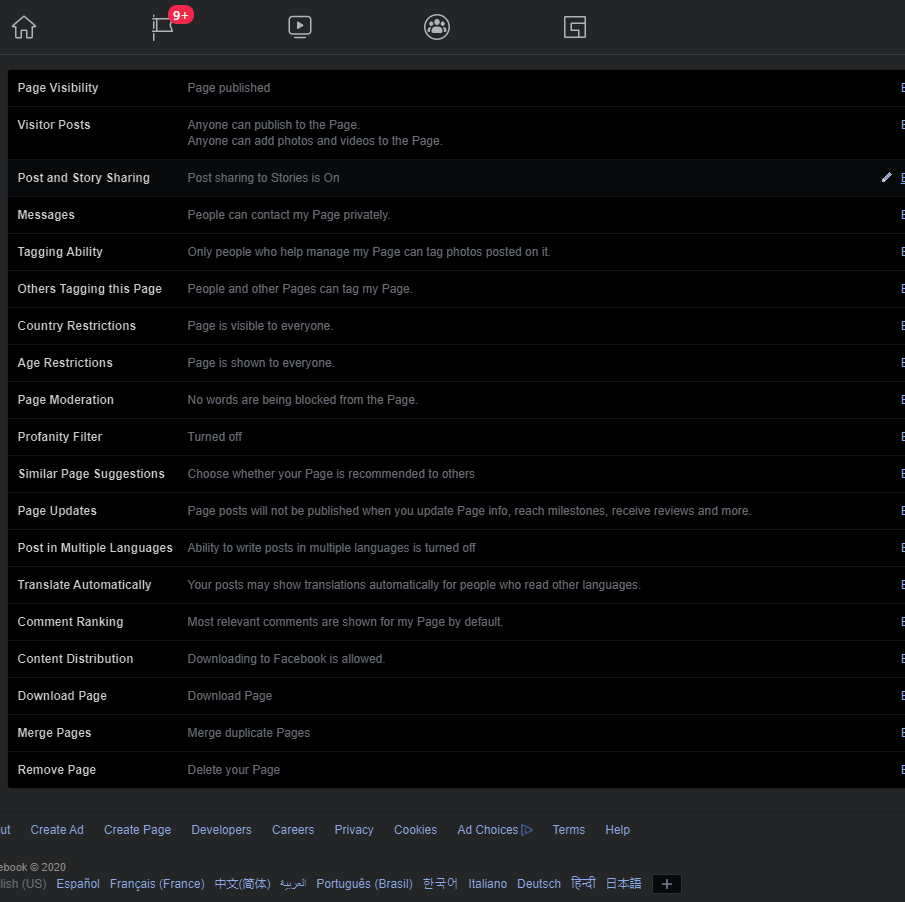 The Templates and Tabs section is cool because we can control how people interact with our page: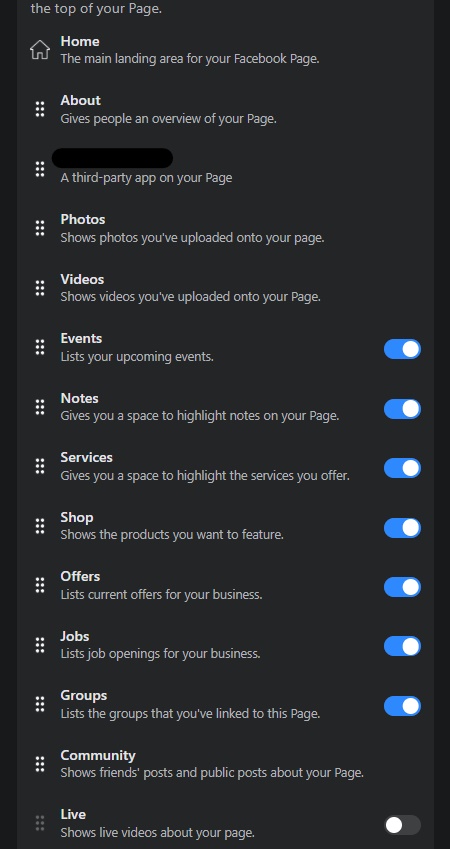 5. Clip Down the Best Segments for Video Soundbites
Facebook users don't spend ten minutes staring at the same video – much less a two-hour one with only audio.
Instead of uploading our entire podcast and saying "go for it," we'll want to highlight key pieces of our show with soundbites.
Facebook recommends keeping your video around 15 seconds – not minutes, seconds! Up to 30 is okay for a podcast snippet.
It comes in handy to video record our show – even if only on a phone – so we can piece together video soundbites.
Video snippets with humans are much more attention-grabbing. Plus, most people watch Facebook videos without audio. On that note, don't forget the subtitles either.
6. Make Images with Podcast Quotes
Take some key quotes from the latest show and transform them into bright text-heavy images.
How Did This Get Made? creates a promo post for each episode with a funny quote from the show and engaging image: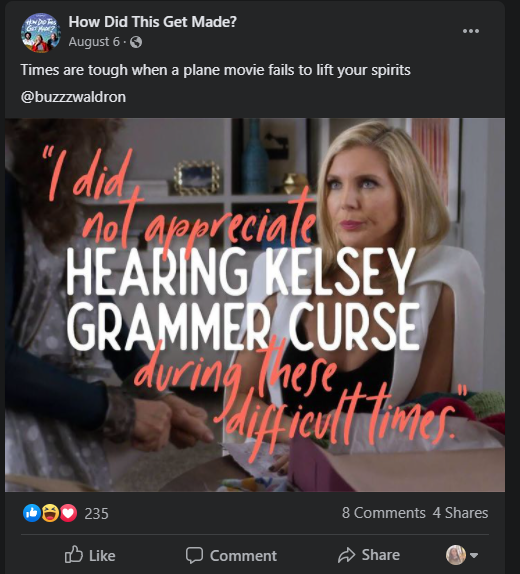 Their lack of context is smart too. It leaves the Facebook audience wanting to fill in the gap by listening to the show.
7. Tease New Episodes
Teasers are great because we can boost demand for the show before it premiers. Plus, teasers are typically less than five minutes so they mesh well with Facebook users' short attention span.
Turn clips from upcoming shows into video teasers and include a CTA to subscribe. Better yet, ask them to sign up for your paid Patreon to hear the episode.
8. Beef Up Your Blog Content
Every great podcast marketing strategy includes more content than just the podcast. Ideally, we need a blog.
Not everyone is prepared to commit to a two-hour listen right away. They need some convincing and a brief Facebook description isn't enough.
Run some keyword research for searches related to your podcast's main topic and each episode's topic. Guest names make excellent keywords too because they're often easier to rank for than other topic-based keywords.
Plus, blogs give you more relatable content to post so you're not just constantly promoting your show.
9. Develop Highly Targeted Ads
Blogs and show notes come in handy for running targeted ads among new audiences without shoving your show's subscribe link down their throats.
Facebook makes it easy to promote your podcast with finetuned targeting options. In our case, we'll want to pick a country, specific interests, and a gender (depending on the show).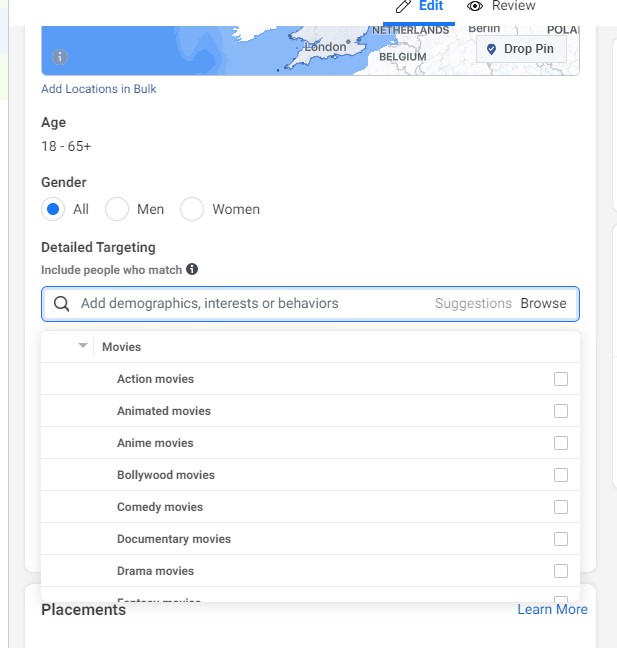 Let's say we're promoting a podcast that covers history through a comedic lens. We'd start narrowing our audience down like so: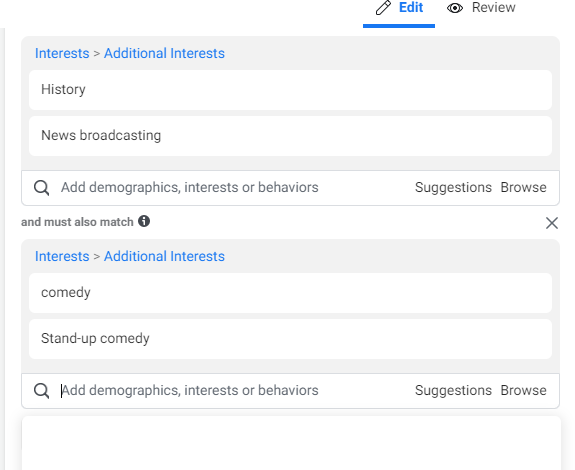 10. Create a Relevant Facebook Group
Groups are a goldmine for podcasts. People love podcasts because the hosts are typically relatable and reachable.
Don't just replicate your show's name and call it a day. Structure your group around the topic of your show and weave in your podcast's name as a theme or pun.
People don't join groups for promotions. They join to learn things, be entertained, share memes, and talk with other fans about your show.
11. Your Current Listeners are Your Best Promoters
Groups are also a great place to find your biggest fans. If they fit into future audiences you'd like to reach, consider incorporating them into your marketing as influencers.
That's not all. Once you build up a following on Facebook, you can create lookalike audiences for running targeted ads.
In the ad creator, you can also adjust whether you want to reach current followers or new users – a useful feature for boosting brand awareness or promoting paid subscriptions.
12. Host a Watch Party for New Episodes
Once you build up your Facebook following a bit, you can start promoting full episodes via watch parties.
Watch parties let you stream video content with an embedded chat. They're a great strategy for figuring out what runs through your audience's head as they listen. With groups and comments, people apply a filter to what they say. Watch parties give you a raw opinion.
How to Promote a Podcast on Facebook: Listen to Your Audience
It's all about your audience. Before anything, you need to figure out who your current audience is – their age, locations, interests, gender, etc. – and what they want from your Facebook presence.
Once you conduct some audience research, you can figure out how to promote a podcast on Facebook in a way that resonates with those demographics.